IIIF Hosting - software as a service
The quickest way to get up and going is to upload images to an image hosting service. One quick one to get started with is IIIF Hosting.
Step 1. Click "Sign in/up"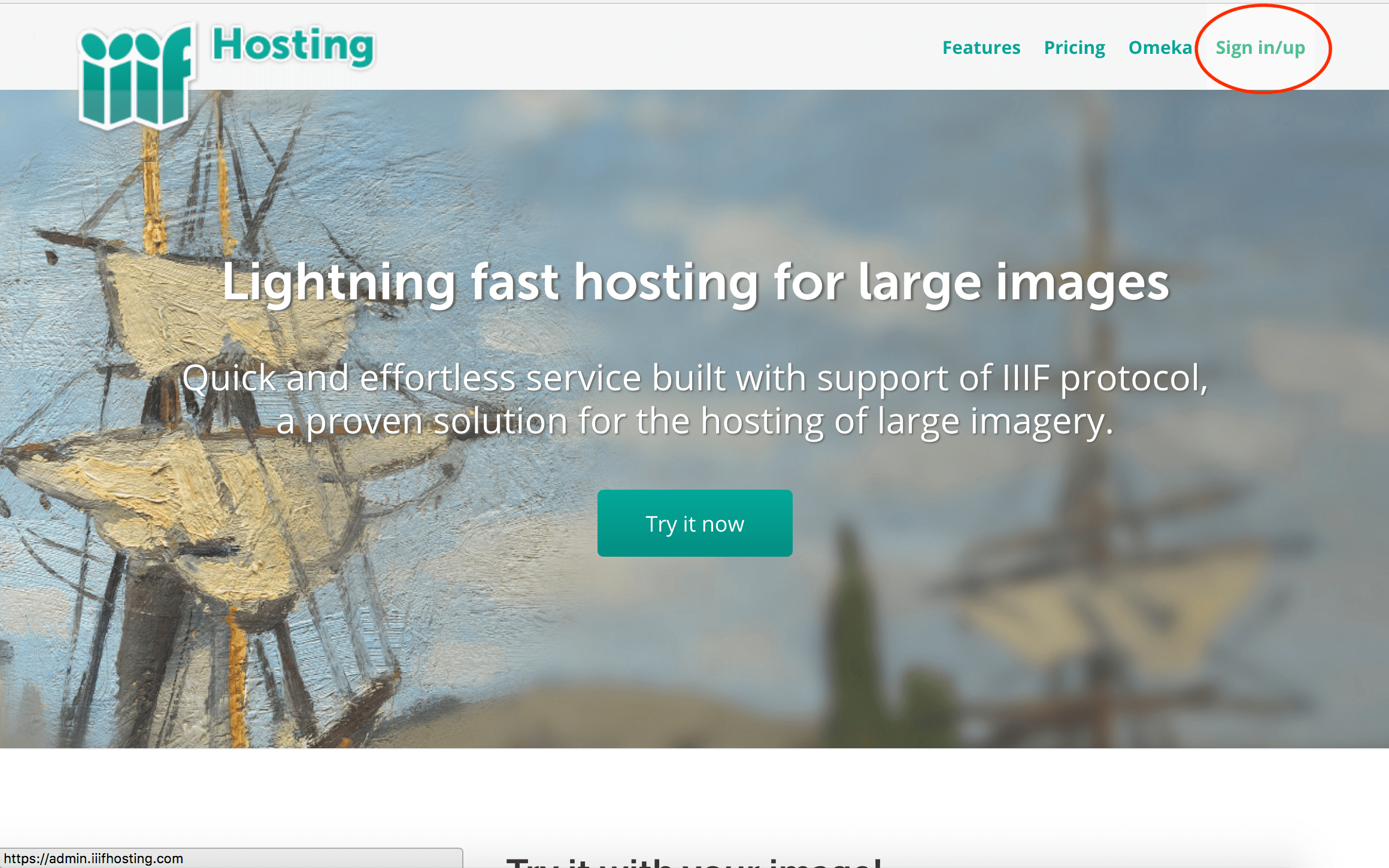 Step 2. Click "Import"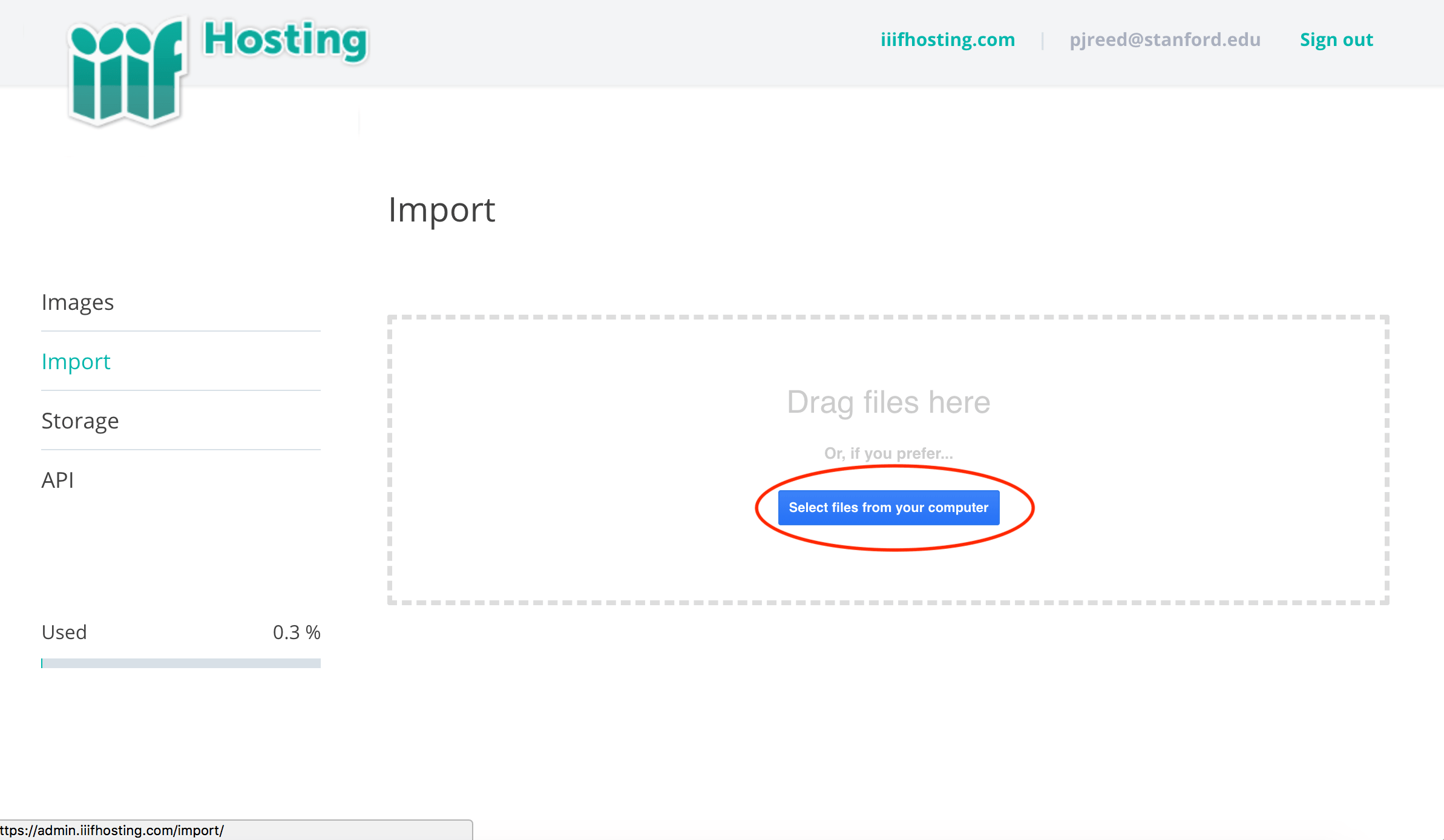 Step 3. Drag or upload an image from your computer.
Step 4. Success, now you should be able to see a zoomable version of your image.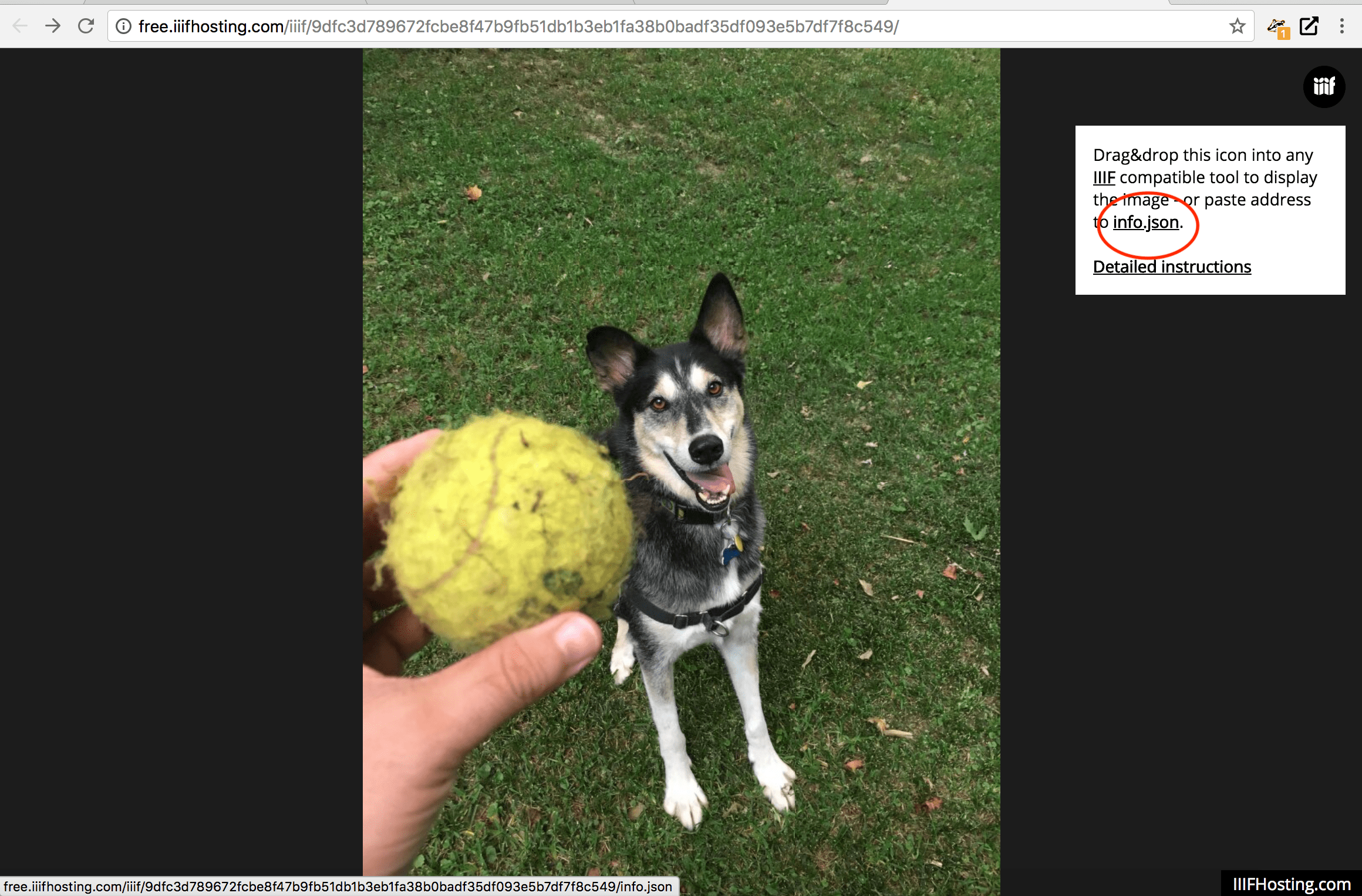 Now you have a hosted version of your image, using a IIIF Image API server. If you click the "info.json" link in the upper right-hand corner, you will see the Image Information response.
// http://free.iiifhosting.com/iiif/9dfc3d789672fcbe8f47b9fb51db1b3eb1fa38b0badf35df093e5b7df7f8c549/info.json




{


  

"@context"

 

:

 

"http://iiif.io/api/image/2/context.json"

,


  

"@id"

 

:

 

"http://free.iiifhosting.com/iiif/9dfc3d789672fcbe8f47b9fb51db1b3eb1fa38b0badf35df093e5b7df7f8c549"

,


  

"protocol"

 

:

 

"http://iiif.io/api/image"

,


  

"width"

 

:

 

3024

,


  

"height"

 

:

 

4032

,


  

"sizes"

 

:

 

[


     

{

 

"width"

 

:

 

189

,

 

"height"

 

:

 

252

 

}

,


     

{

 

"width"

 

:

 

378

,

 

"height"

 

:

 

504

 

}


  

]

,


  

"tiles"

 

:

 

[


     

{

 

"width"

 

:

 

256

,

 

"height"

 

:

 

256

,

 

"scaleFactors"

 

:

 

[

 

1

,

 

2

,

 

4

,

 

8

,

 

16

 

]

 

}


  

]

,


  

"profile"

 

:

 

[


     

"http://iiif.io/api/image/2/level1.json"

,


     

{

 

"formats"

 

:

 

[

 

"jpg"

 

]

,


       

"qualities"

 

:

 

[

 

"native"

,

"color"

,

"gray"

 

]

,


       

"supports"

 

:

 

[

"regionByPct"

,

"regionSquare"

,

"sizeByForcedWh"

,

"sizeByWh"

,

"sizeAboveFull"

,

"rotationBy90s"

,

"mirroring"

]

 

}


  

]




}



Try this image with: